It's past 12:00 AM Pacific time! Time to announce the winner of our 1st giveaway! Who's excited?! I know I am!
With the help of random.org, fate has chosen #20 out of 49 comments as the winner of this lovely signed photo: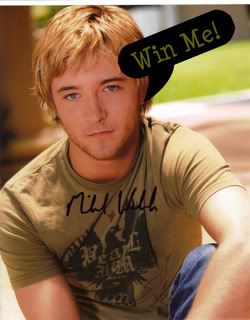 Congradulations to Lauren, lucky #20!
Thanks to all those who entered! Don't be too upset if you didn't win this one, we have lots more fabulous prizes lined up to give away soon!
For anyone who is completely devastated: email me at twilightlurve@gmail.com and I'll send you some info so you can try to get your very own Mike Welch autograph. ;D
The Peter Facinelli autographed photo contest is up next, details coming soon!