We've seen the Twilight fan base do amazing things. We helped Peter Facinelli win a bet on twitter. We've broken box office and bestsellers list records.
As a group, we are a powerful force. Let's use it to do something good, shall we? :)
Twilight Lurve has started a fundraiser via CharityWater.org with a goal to raise $5,000 to bring clean water to people who have none. We need to do this in 90 days. Ambitious, but I think we can do it!
How you can do your part:
-
Please donate as much as you can.
Think of it as a Secret Santa gift to a stranger. Even if it's 50 cents, it helps! Go to
the fundraiser page
and donate anything you can.
-
Tell your friends!
Go to the charitywater.org page, http://mycharitywater.org/twilightlurve, and click on the "Share on Facebook" or "Share on Twitter" buttons. Email the link to every person in your address book.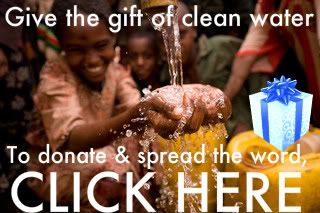 If every person who follows us on twitter donated $7.00, we'd reach our goal!
So donate & spread the word, let's show the world what Twilight fans are capable of! :)