Twilight Lurve is searching for Peter Facinelli's Ultimate fan!
Is it you?! Prove it & you could win this lovely hand-signed photo of PFach: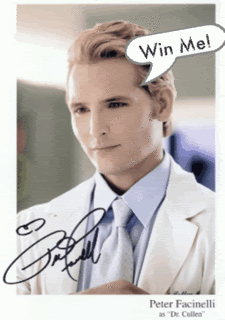 Want it?!
Here's how to enter:There are a million ways to enter this contest:

Send us a video response, love letter to PFach, a photo of you hugging a photo of Peter, anything you want, & prove to us why you are his #1 fan! Be creative!

Send all non-video entries to our email: twilightlurve@gmail.com
Limit 1 entry per person, make it a good one!
This contest ends September 15th, no entries will be accepted after 12:00AM PST!
I will review all the entries and choose one lucky winner. <3 Good luck PFach fans!